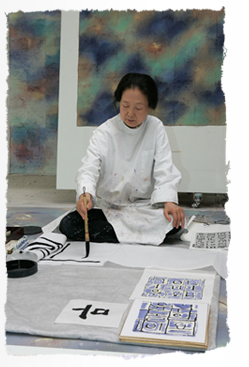 BANG HAI JA
Bang Hai Ja was born in Seoul in 1937 and lives in France since 1961.
She belongs to the first generation of Korean abstract painters and one of the highly skilled painters in the World (Pierre Cabanne).
Her debut in Paris was immediately noticed by the writer, historian of art and art critic Pierre Courthion who did not cease to encourage her.
It is in fact, outside her country that Bang Hai Ja will really discover her roots and that she deliberately chooses to keep in reference her Korean culture, the techniques, and the approach of the universe. Between the Korea of her childhood and youth and France where she looked long and searchingly at Van Gogh, Cezanne, Kandinsky and Paul Klee, she has cast a link, a binding wire, to "reach deep into myself", she says, and unite East and West, the calligraphic tradition and the revelation of abstraction.
She uses Korean paper made by hand from leaves and plants, according to age-old traditions, by Buddhist nuns. It can be rumpled and shaped with the fingers. She also uses unwoven fabric known as geotextile, which she likes for its transparency. Bang Hai Ja who works with the fabric stretched out flat before her, on the floor, paints with it not on it. She paints repeatedly both sides. The colours are set side by side, merge, create subtle shades and upon this dreamlike background there arise those imaginary or lyrical visions that she also speaks of in her poems, those cellular bursts shot through with a light whose impact on the emotions is a source of happiness.
Gilbert Lascault, author of the first monograph of Bang Hai Ja published by the Editions Cercle d'art in 1997, writes: "Bang Hai Ja's painting constantly offers us new views of the universe. Her painting is primarily a look at the cosmos that admires the universe and helps us to admire its multiple beauties (…) Because of their active immobility and unflagging attention, painters (and poets) are probably in the best position to bear witness to the beauty of the cosmos, its harmony and its diversity. Bang Hai Ja is someone who waits and watches."
In the 2nd monograph 'Breath of light - Bang Hai Ja' of the Editions Cercle d'art published in 2007, the great art critic Pierre Cabanne writes;
"Bang Hai Ja's painting is a shimmering garden, offering its blossoming to our mobile gaze. Nothing has any weight, nothing lasts, all is profusion, effusion. Another way opens up, a new distance is established with the world and new approaches become possible. We thus come face to face with an art that does not seek to portray and hence to reduce man to enslavement through images, but on the contrary to free him, to restore to him his autonomy, his originality. An art that abolishes the humdrum and gives creative power back to the artist and plenitude to creation. "
French Poet and writer Charles Juliet said; "Her paintings, with their soft and delicate colours, puts us in contact with the best part of ourselves, and also with those inexpressible truths that surround the mystery of life. Her search for what it is timeless and imperishable has led her into those states of heightened awareness that have taken her to the furthermost point of herself and have enabled her to fix on her canvases an infinitely subtle weave – the synthesis of all she has lived through, of what she is living through, of what she is reaching for. Her work, deeply rooted in silence, bespeaks asceticism, the long path towards simplicity and to that light which is given to those who are truly fulfilled. " - 'The spiritual dimension of the work of Bang Hai Ja'.
Near to the poets, she illustrated several works with washings: "A Secret Joy", poems of Charles Juliet, Editions Voix d'encre, 2001, "The Songs of the Transparencies", poems of Roselyne Sibille, Editions Voix d'encre, "Blossom of Flower ", poems of Kim Chi Ha, Editions Voix d'encre, 2006 and The Moon of Thousand mounts, poems of Korean buddhist monks, Editions Albin Michel, 2003.
Many exhibitions were devoted to Bang Hai Ja in France, Korea, Switzerland, Germany, Sweden, Belgium, United States, Japan, Monaco, Spain and in Canada.
Bang Hai Ja had over 60 personal exhibitions and took part in many collective exhibitions.
Pierre Courthion, Gilbert Lascault, Pierre Cabanne, Charles Juliet, Maurice Benamou, Andre Sauge, Olivier Germain-Thomas, Michael Gibson, Valere Bertrand, Patrice de la Perriere and many others wrote on her works.
Bang Hai Ja received the 'Grand Prix, Painter of the Overseas' on the Day of the painters in Korea, on December 5, 2008.